Howdy fellas,

A few updates on the upcoming forum upgrade.

Thanks to everyone's help on the new forum logo thread, we settled on the "hands in pocket" logo.

Our developer who was managing the forum upgrade had an accident with his server and lost the upgrade work, then went off on a family trip and did not return. I imagine he is carving his way through the jungles of India with a machete, his family behind him, in search of some lost Indian treasure city long since swallowed up by the forest. Either that or he found some other project he liked better than the forum upgrade and just never reported back to work.

ANYWAY! We've got a new dev named Haseeb who is very fast and good, and he has been blazing through the upgrade. Most of the functionality we want now is in place, and we are tweaking a few last things.

I have a design contest running for the theme for the new forum. Once that's ready, Haseeb will then code it up, and we should be good to launch. He leaves for a vacation on May 22nd -- so it's our aim now to have this done and launched before then.




NEW FUNCTIONALITY



Here's some of the new functionality you will see on the new Skilled Seducer Forum (the rename for the Girls Chase Boards):


Chat:

Alek Rolstad has particularly pushed for a chat; it's something he very much wants and thinks will be good for the forum. So we're going to set this up. I had some concerns before about how we'd moderate a chat, but Alek thinks we should be okay with the current crew of moderators and most people behave fine in chats (I don't use chat, so I really have no idea what goes on in a chat aside from what people tell me). So we're setting this up.
Liking:

you'll be able to like posts in the new forum. This'll make it easier to tell which posts a lot of members agree are good/useful posts. Liking will also contribute to members' Reaction Scores.
Reaction Score:

this is a way for us to keep track of how members of the forum are ranking each other. We're probably going to keep the reaction score hidden from everyone but moderators and admins, and will use this to help us determine rank updates. This should make it easier to keep track of members in the event the boards get a bunch of new members, and avoid us overlooking guys who, for instance, are new or don't have many posts, or log in only infrequently, but contribute a lot of good stuff and are providing content other members find very valuable. We'll definitely have liking on posts, and

might

also have a dislike function, although there would not be a public element of this (you'd know you disliked a post, but nobody else would see it; it'd just be a private thing, for your records, and that fed into a user's Reaction Score, which no one but the mods would see and wouldn't affect anything other than influencing us when it's rank upgrade time).
Mandatory Field Reports Prefixes:

one of the long-time problems with the Field Reports boards is guys not prefixing their posts correctly or at all. To fix this we're setting the new Field Reports board in such a way that you cannot submit a post until you've selected one of the prefixes from the drop down prefix menu for that board. We'll also probably have a quick guide on the new post screen so members can easily see what each of the prefixes stands for. We'll likely expand prefixes to the other boards too, to make sorting for specific types of posts much easier.
Two (2) New Ranks:

Rookie (with a baby icon) and Modern Human. New members with fewer than 10 posts will start with the Rookie rank. At 10 posts, a member will become a Space Monkey (the current Rank 1). Franco felt we needed another level of differentiation between the Cro-Magnon Man (current Rank 3) and Tribal Elder (current Rank 4), so we've added the Modern Human role between those two. You can see what each of the ranks looks like below.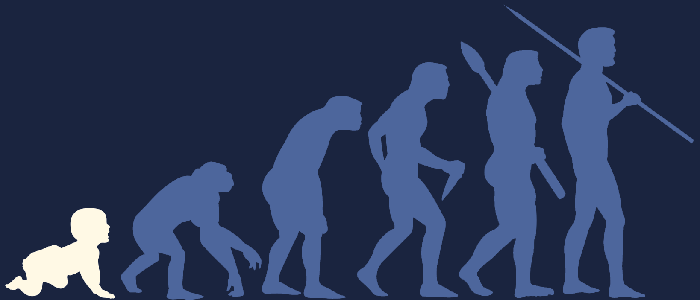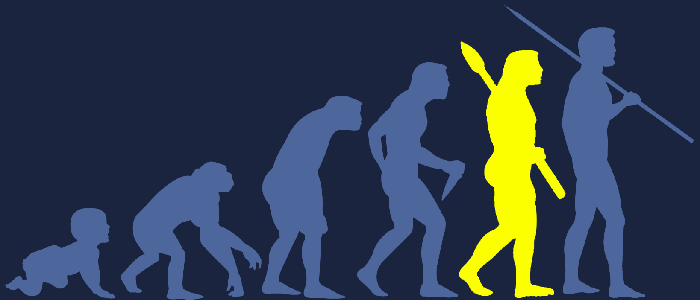 The new theme will be fully responsive and mobile optimized, needless to say.

And all current functionality, like ability to easily see / go to new posts, will be there.




SUBSECTIONS



Space brought up subsections in the forum logo thread.

Alek also talked to me about these sometime back.

Both have recommended we nix most of the subsections of forums (like "Health", "Wealth", "Travel", etc. in the Lifestyle Board). And instead put these all in one board. There's not a lot of activity on the subforums, so I like this idea. And with prefixes, we can pretty easily still keep all these threads distinct enough even in a single forum.

So this is a thing we will do.

I'm not sure if we will do it before go-live or after. If we have time for it we'll do it before.

However, I want to get the forum launched before Haseeb leaves for vacation.

Just in case he vanishes into the Indian jungle never to return as well (actually I don't think Haseeb is from India. But I don't know where he's vacationing. For all I know it could actually be India).

But we will do this, either before the launch if we have time, or after the launch, once Haseeb is back and working again, if not.




BOOKMARKING



Many forum members have asked for the ability to bookmark posts/threads they like, so they can easily find these later.

This is probably an easy thing for us to enable, so there's a good chance we will have it ready for you by the time the new forum premieres.

However, if not, we will roll it out not long after.




IMPROVED SEARCH



The current search we have on the forum is not very good.

One of the projects MD (our lead developer) is working on is a cross-property elastic search for all major GC properties.

This is basically a Google-tier search, with autocomplete / autosuggestions, and that will be able to pull up the most relevant results from any property we set it up to pull from.

So you will be able to use search, and have very relevant results that come up either just for the forum, or for the forum and Girls Chase proper.

(we also want to make comments in the GC main site comment sections searchable, another request we've frequently had over the years. But that'll come a little later)

I don't have a good ETA for improved search, since MD's plate is very full. But this is in the works as well.




WHAT ELSE DO WE NEED?



If there is other functionality you think the forums need, this is your chance to let me know.

We're actively in "build a whole bunch of stuff" mode, so if we need it, tell me now, and if it sounds like it's useful and other guys agree or Franco and I like it, I'll ask Haseeb to find a plugin for it if one exists, or build one for it if it doesn't, and we'll get it working.




FORUM UPGRADE: OUT SOON!



So, it is finally happening.

Everything always takes longer than we expect.

But, new forum will be out soon.

And it is going to be slick, easy to use, mobile friendly, and extra special awesome.

All the stuff you love from this forum get carried over, plus we'll add more useful features and fun stuff (all the stuff above).

ETA: less than 2 weeks, unless something blows up in the laboratory.

Chase